Ice Racing
Dave has been ice racing since 1982, with the Adirondack Motor Enthusiast Club (AMEC) as well as the New York State Ice Racing Association. He has been a club officer of AMEC for 14 of those years, and continues to run ice races in addition to being the club historian.
Racing under his traditional number 48, he has won 13 championships in two cars. Dave's original car was the now renowned "Pumpkin," a modified DS painted a memorable shade of orange.
Pumpkin not only brought Dave two of his championships, but also took no less than five different drivers to Rookie of the Year honors – a feat unique in the history of AMEC, which goes back to 1954.
Dave's current ride is a yellow Super Modified racer he created with the encouragement and sponsorship of Jerry Hathaway of SM World. It has a custom frame and body with a Citroën SM engine mated to a four-speed DS gearbox. From 1987 to 2000 it was the most successful car in its class, and Dave took home the overall championship in 11 out of 12 years. In spite of changes in class rules allowing more powerful cars, Dave is still winning: with some new suspension adjustments, he took the overall and Super Modified class championships for 2011.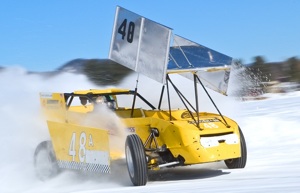 SM-powered Super Modified racer
These successes have brought Dave coverage in a range of periodicals, from marque-specific publications such as our own Citroën Club's Citroenthusiast quarterly and Britain's Citropolis, to the for-men-only FHM magazine.
2013 Update
For this season Dave is stepping up the power: he has added a supercharger. This was a complicated installation because the configuration of the SM engine made it impossible for the supercharger to run off the crankshaft, as superchargers normally do. Instead Dave had to power it off the auxiliary shaft which turns at half engine speed, then boost the speed back up with a system of pulleys and belts. In the photo below you can see the auxiliary shaft coming in behind the large central pulley. The supercharger is at the right with the arrow on its housing.
Testing on a dynomometer showed that the 3.25-liter Maserati V6 is now making about 250 horsepower at the wheels. For comparison, the stock SM engine made about 150 horsepower at the wheels, and Dave's bored and stroked version of it put out about 200 horsepower in its naturally aspirated form.
Most important, the first day of ice racing showed that the car is noticeably faster, and continues to be reliable with the new induction system installed.
Click here to see a horsepower and torque chart of the dyno run, and take a look at our youtube video of the dyno testing, below. Be sure to turn up your speaker volume!